2019 Industry Appreciation Award Recipients Announced!
Oct. 30, 2019
The Chamber of Commerce celebrated the achievements of local companies at its annual Industry Appreciation Awards luncheon on October 29, to a sold out crowd of 200 at the Indian River State College Richardson Center. And, in keeping with the Vero Beach Centennial theme, the Chamber also recognized four local businesses as Centennial Businesses – those in business for 100 years or more.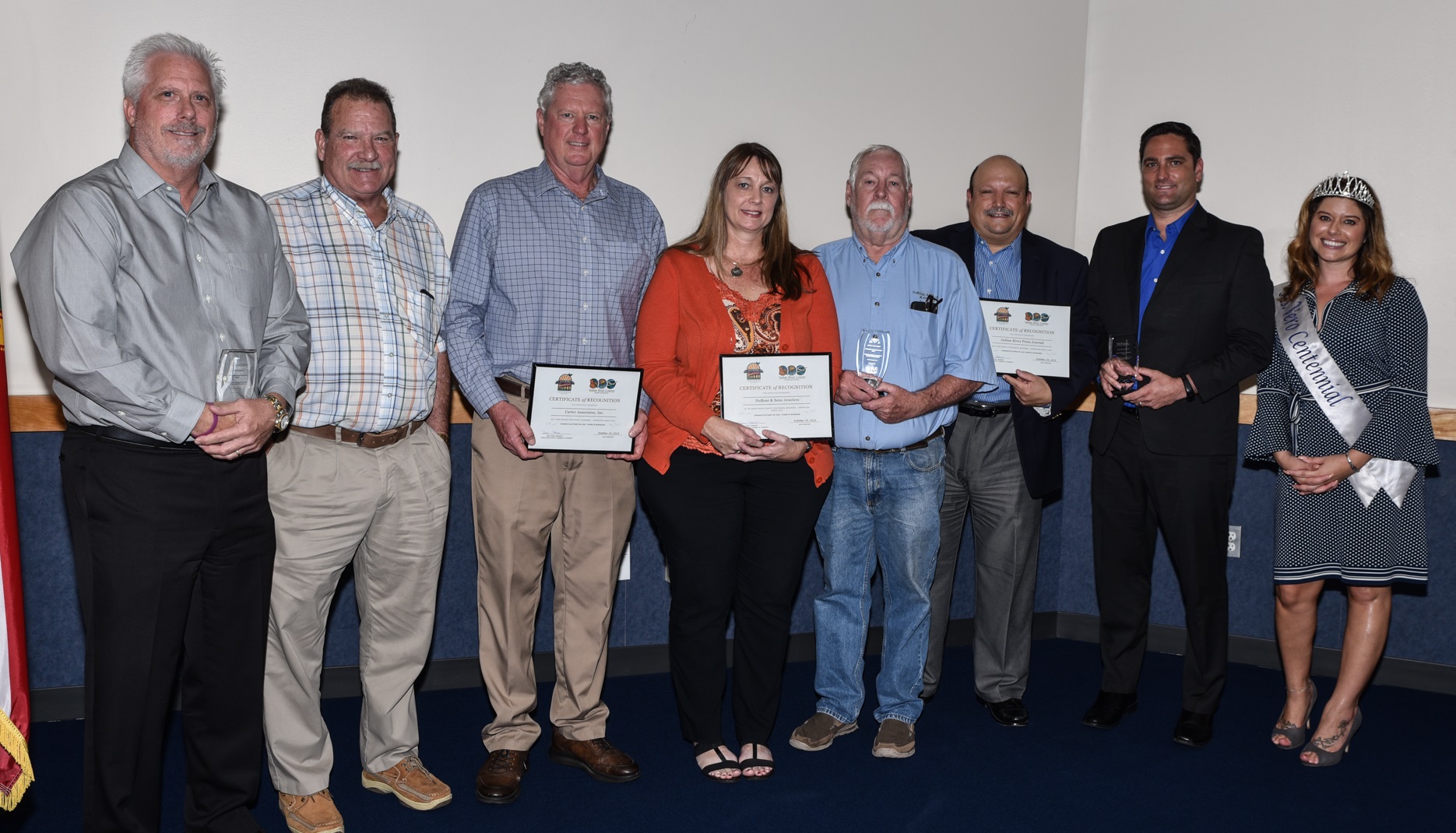 Centennial Businesses L-R: John Blum, PatrIck Walther and George Simon (all with Carter Associates); Tonya DuBlose and Mike DuBlose with DuBlose & Sons Jewelers; Larry Reisman and Adam Neal with TCPalm/Indian River Press Journal; and Anna Valencia-Tillery with White Glove Moving, Storage & Delivery as Miss Centennial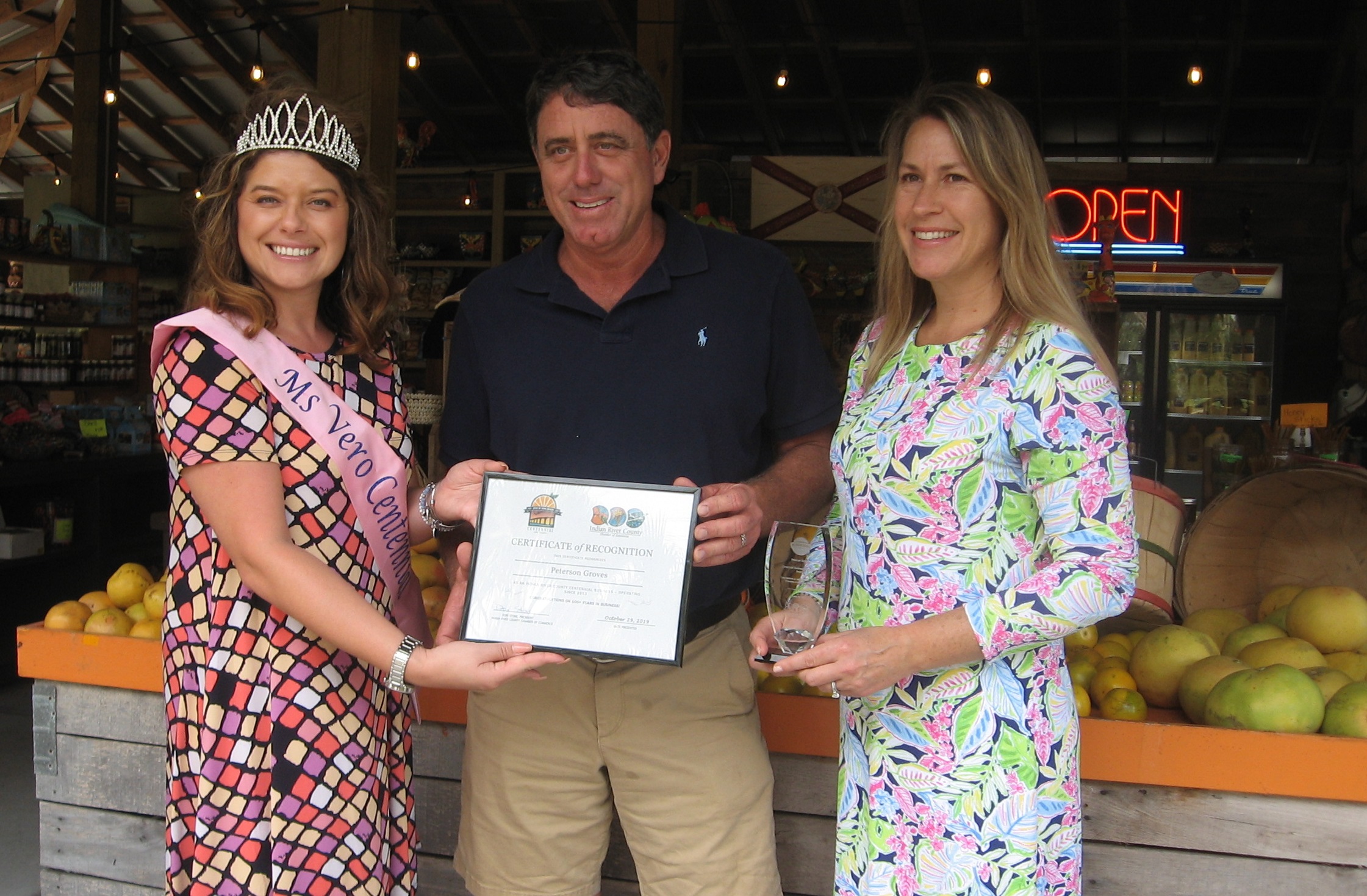 Anna Valencia-Tillery as Miss Centennial, with Mark and Tiffany Barkwell from Peterson Groves
Carter Associates, who designed our canal system that's still in use today, opened their doors in 1911. DuBose & Sons Jewelers started their business in 1912. Dr. J. C. DuBose was Chairman of the Vero Beach Board of Trade, a pre-curser to the Indian River Chamber, from 1924 to 1933. Peterson Groves, which owns one of the oldest citrus packing houses in the county, started their operations in 1913. The Indian River Press Journal rolled out their first paper in 1919 and is now part of the USA Today Network. Anna Valencia-Tillery, with White Glove Moving, Storage and Delivery, served as Miss Centennial to hand out these special awards.
The Chamber recognized Indian River Home Care as Small Company of the year, while Blue Dog and Windsor were honored as the Chamber's 2019 Mid-size and Large Company of the Year, respectively, based on employment levels. Florida Power & Light sponsored the event.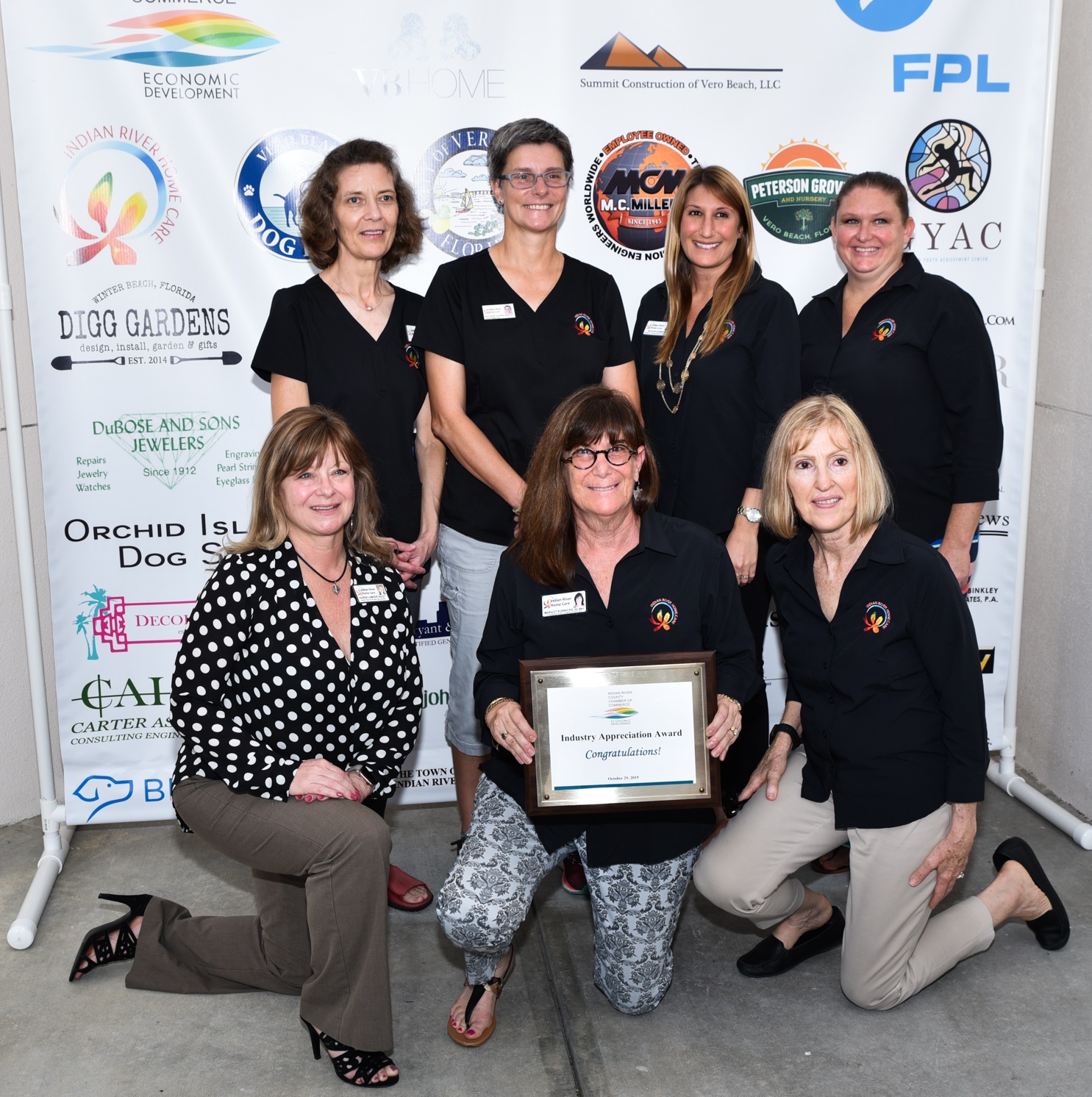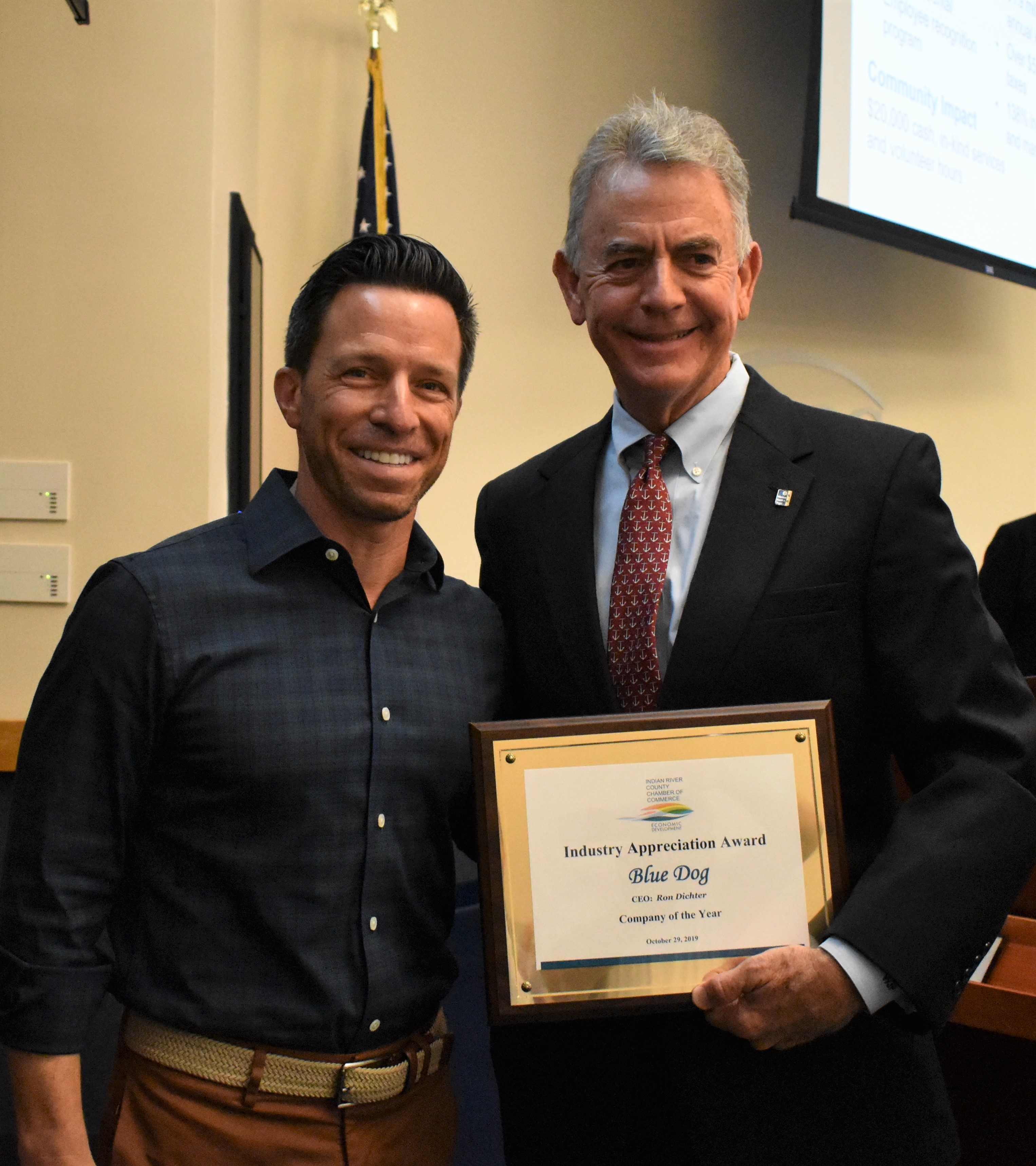 Indian River Home Care Ron Dichter (L), CEO of Blue Dog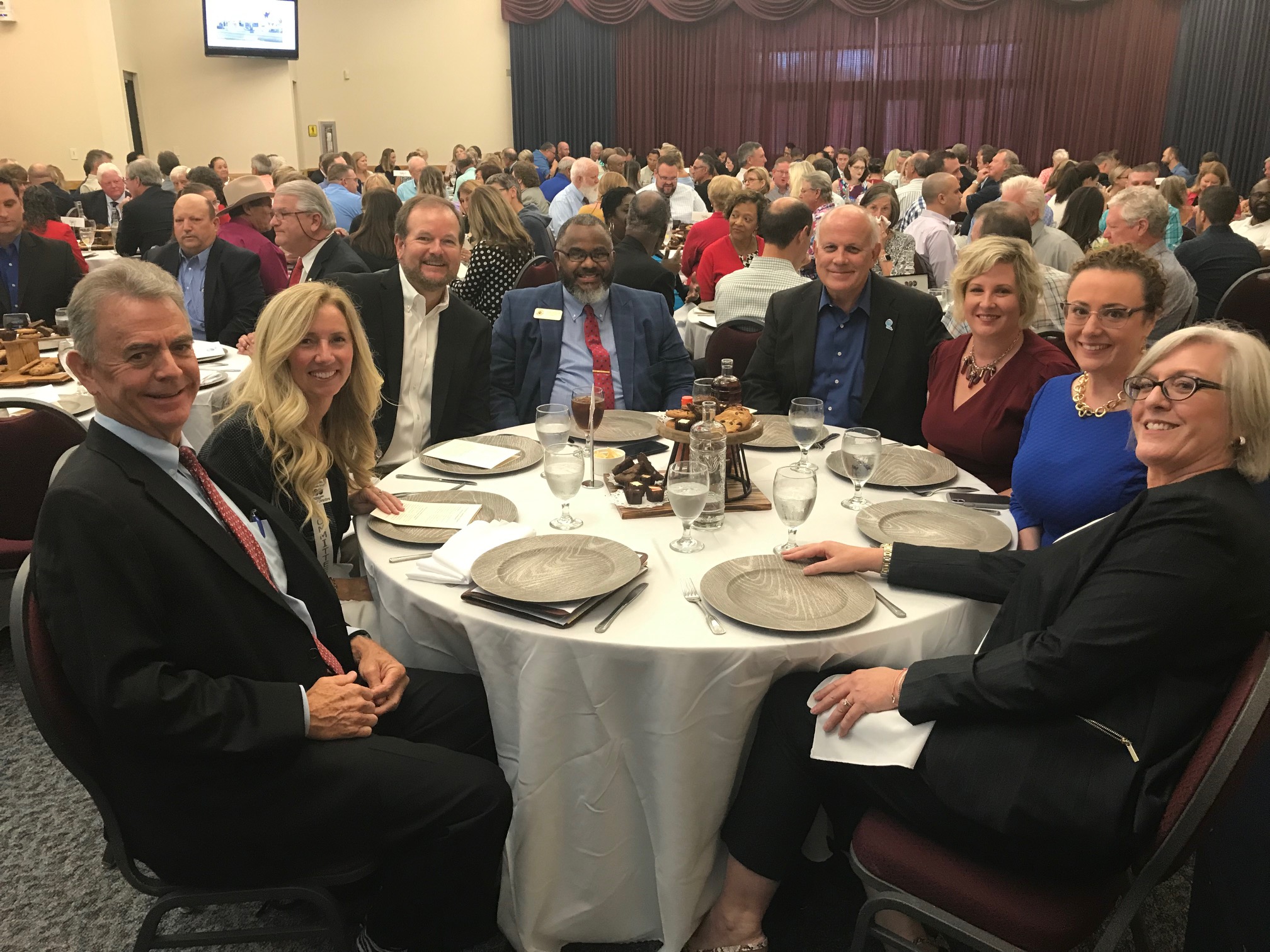 Head Table - Chamber Dignitaries

Bill Penney, President/CEO of Marine Bank & Trust, and Chairman the Chamber's Economic Leadership Alliance opened the event, welcoming guests and addressing the sold-out crowd as Master of Ceremonies. Melody Ipolito, with Adams Media Group and Chair of the Awards Committee, announced the architectural awards.

Helene Caseltine, the Chamber's Economic Development Director, explained that "our Industry Appreciation Awards program is an important component of the Chamber's overall business retention program and our goal of job creation. "We show our appreciation to local businesses that have made a positive impact in our community during the past year, either through architectural enhancements or by way of community involvement and economic impact. It was even more special this year as we honor our Centennial Businesses – this is quite an accomplishment!"

For the full media release, please click here.
Download file